Two decades after Godhra, revisiting a raging cauldron lit this day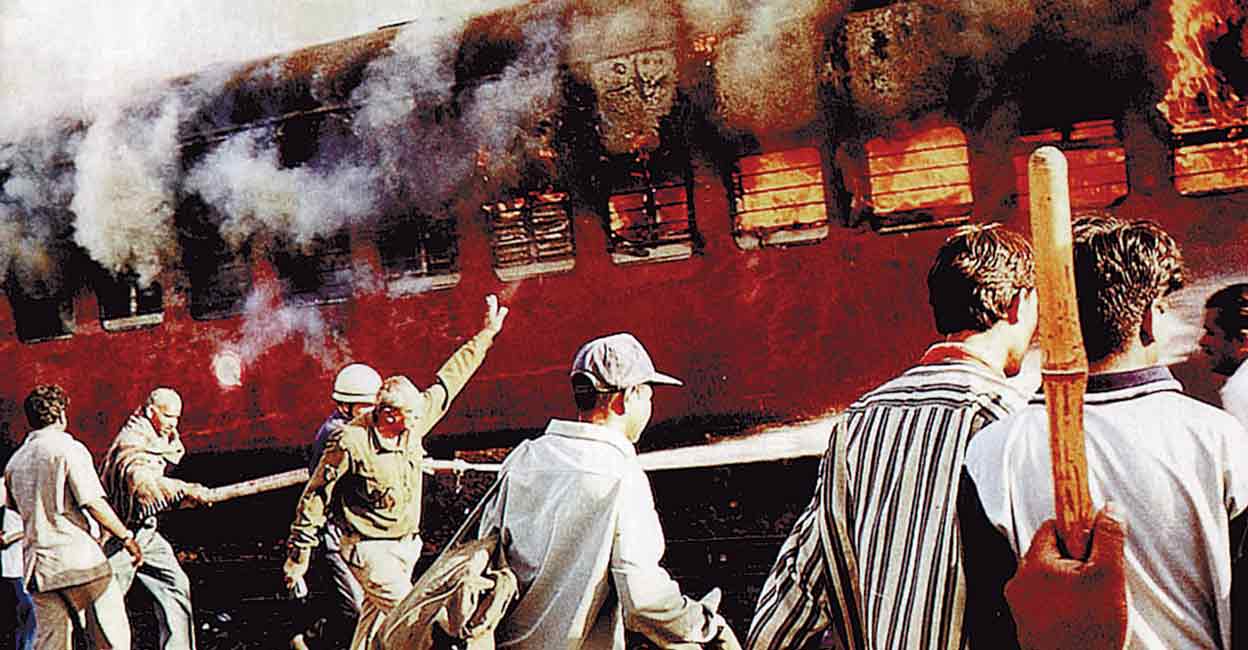 Two decades ago on this day, February 27, 2002, to be precise, we landed in the commercial capital of Gujarat, Ahmedabad, from the teeming Indian megacity of Mumbai.
Bombay, which abandoned its British heritage to embrace its desi avatar of Mumbai seven years ago, was our "adda" then.
It was always Bombay for us and we thrived there for months despite the agony of an unwarranted pink slip.
BridgeNews was making waves in the oceans of the booming North American market, battling head-on heavyweights Reuters and Bloomberg in commodities, stocks and money market news through its newsfeed terminals.
Its meteoric rise was as swift as its unceremonious crash.
This poor soul, however, was lucky enough to enjoy his heyday at his office in Nariman Point, which housed much of his press operations in India.
Bridge carried out a hiring spree in India as elsewhere, sharply increased journalists' paychecks and disrupted the media industry in the country.
A section of Indian journalists have abandoned their underpaid, overworked and anemic point of view. The essentially foreign concept of a five-day week, hitherto confined to certain global media operating in India, gradually crept into the smoky psyche of the Bombay Press Club, which shared its garden wall with Azad maidan, and its newsrooms.
Bridge's phenomenal progress culminated in a dramatic collapse as it pursued frantic hiring, wild expansion and a torrent of acquisitions. He was probably in too much of a rush.
Talk of his troubled fortunes began doing the rounds in early 2001.
It was only a matter of time before he filed for bankruptcy. Pink slips then made their first appearance in the vocabulary of the media industry.
For many of us, who were left jobless overnight, the garden of the Bombay Press Club offered the solace of good humor as empathetic peers from Bombay's vibrant journalistic community helped keep the sparkle going. life.
But the rentals and the monthly installments were becoming more and more tenacious. Don't forget you were charged extravagantly even for incoming calls on those days – Rs 16 for a call I presume. Orange was my service provider then.
As the wear and tear of a penniless existence in Bombay began to creep into the discomfiture of our nerves, my young colleague Ullekh and I decided to take a break from the hubbub of an aimless existence.
That night, as the icicles seeped into the declining spirit induced by our sorrows, we gazed at the skyline of Azad Maidan.
Out of nowhere, a magic wand suddenly sparked an idea that could not have changed our lives but offered immediate solace to verify the default woes of scarcity.
Ahmedabad, about 600 km north of Mumbai, became our destination without the help of Google Maps.
Not that a job offer was waiting to be delivered after an overnight trip, but food and accommodation were a shoestring, thanks to Thomas Kutty Abraham, who was Reuters' commodities reporter there. .
Stemming from the existence of a tin structure in Bombay, his spacious three-room apartment in a Patel settlement in the heart of the city gave us the luxurious comforts of a suite.
When we landed in Ahmedabad – the hub of Gujarat's booming textile industry and commercial capital – two decades ago today, for the first time, something was missing. An unknown kerfuffle was in the works and Assembly polls were 14 months away.
Narendra Modi was just five months in office in February, after the Sangh parachuted him in to replace Keshubhai Patel.
Gujarat was a 'dry' state, but we had to somehow weed out the ugly turbulence from our mundane routines.
Not that your friendly neighborhood poison was off limits. You could still have it, with a little effort.
From Bombay Central, where most northbound trains depart, we landed in Ahmedabad on February 27, 2002. A car ride of about 10 km in the morning brought us to SAL Hospital Road, a short detour via the Sarkhej-Gandhinagar highway.
The rendezvous of our destiny and our destination was Thaltej, half a kilometer from SAL Hospital Road.
Thomas, who wore no beard, lived in a housing corporation occupied by Patels and Shahs near Sunset Drive-in, where you can browse movie theaters from the cozy comfort of your car. He was probably the only "foreigner" staying there, but he felt at home there and so did we, the visitors.
In nearby settlements there were also a few 'outsiders', who fled following a raging cauldron of hatred emanating from Godhra, hours after we landed on Wednesday.
After our crash landing at the Aditya complex, we went out to get some 'Somaras', as some of our friends fondly described. It was an essential commodity to keep our sagging spirits afloat as winter, though on the wane, was still here.
We were back shortly after a brief adventure with our friendly neighborhood interlude, but something was brewing.
This time Thomaskutty Abraham was dressed for us to return for what he called an urgent and important mission to Godhra station, a three-hour drive east of Ahmedabad on that fateful day.
His taxi driver was waiting. But we had no idea then of this storm of hate waiting to be unleashed.
The Sabarmati Express train, which covers the vast swaths of Uttar Pradesh and Madhya Pradesh, to reach Godhra on the second day en route to Ahmedabad, was set on fire at Godhra railway station, nearly 1,500 km south- west of Varanasi.
Worse still, 59 kar sevaks were burned to death in the carnage that erupted in the S6 car around 7:30-7:45 a.m. as the train, which was about four hours late, was about to leave the station .
Just before heading to Godhra, our host had a friendly and stern warning: wipe the traces of beard from your face, lest…
The profound warning was a rude jolt as well as a realization. The beard is not associated with your personality but with your religious identity in some parts of the country as well.
Now, a flashback has juxtaposed the tumultuous mental landscape – why have I always been asked to show my rail pass at the Victoria Terminus commuter station during my time in Bombay? Does it have a weird connection to stubble? We never know. Some accomplishments come late.
Thomaskutty left and my dear hairy young shoots were given a wild, situational burial on a sink.
We were stuck in the building complex. The dark storyline reminded us of Bruce Springsteen's iconic number Born In the USA: Nowhere to run, ain't got nowhere to go. There were no OTT channels to keep us company then, internet service was a luxury and all of our friends who worked in Ahmedabad were forced to take the path of caution. The comfort was that we had enough stock of rice, lentils, vegetables and powdered tea.
Now, as this poor soul was ignorant in the art of cooking, the young man did himself the honor of keeping us away from hunger.
At frequent intervals of the creeping day, we heard loud explosions out of nowhere. But the locality has been largely sanitized from wanton destruction.
Neighbors told us that long-distance trucks had been set on fire in Thaltej. And a Honda showroom breathed in the raging fires of destruction.
These are the only major incidents reported within a half-mile radius, we were told.
Because no "outsider" owned or stayed there. The closest settlements where you could spot members of a particular community were seven kilometers away at Mithakali, a tony locality, and 12 km away at Sarkhej-Juhapura.
Like Thomas, there was some Christian presence in the area, but it was not a "problem".
Yes, not a problem as we were also treated well by the neighbors of our host, a Christian by faith.
A preschooler staying at the resort often visited us with the warmth of home-baked sweet delights over those three interminable days as Thomas deciphered Godhra's carnage and its fierce fallout for Reuters' global audience.
It had a calming effect. We savored the delights that gave us respite from the mundane routine of our enforced captivity in the strife-torn state.
Smoke continued to billow from the charred buildings of the Old City and the riots showed no sign of abating, but it was time for us to return for the elusive work in Bombay.
But a deeply disturbing conversation from one of those dark days in Ahmedabad still haunts us:
??
क्यों?
——– पर फेकने केलिए
(Uncle do you know how to make Molotov cocktails)
(Why?)
(To be launched on ——-)
Those who understand the disturbing reality of the new India can easily fill in the blanks.
We left for Bombay that day with an uneasiness that torments us even after 20 years.
Two decades later
BridgeNews is non-existent even in the endless debris of the World Wide Web, beyond the confines of Google's army of crawlers.
Orange changed color to Hutch's adorable pug, which was picked up by Vodafone (an acronym for VOice, DAta and PHONE).
So he is still serving me in the south at Kottayam, Kerala.
Kerala, where you can show off your beard, or Hijab, without fear of persecution.
A beardless existence in the land of God means something is wrong. Maybe that's why I settle on the edge of what is now called a French beard.
Thomaskutty Abraham is now Bloomberg's Bangkok bureau chief.
Ullekh NP is now the editor of 'Open' magazine.
Narendra Modi is now the country's top leader and Varanasi is the prime minister's constituency.
Gujarat is still a 'dry' state and alcohol is still available on the sly.
And Godhra is still a cauldron reeking of hatred in the tormented psyche of our nation.