Supporters rally after UCP nixes race-based data bill leg debate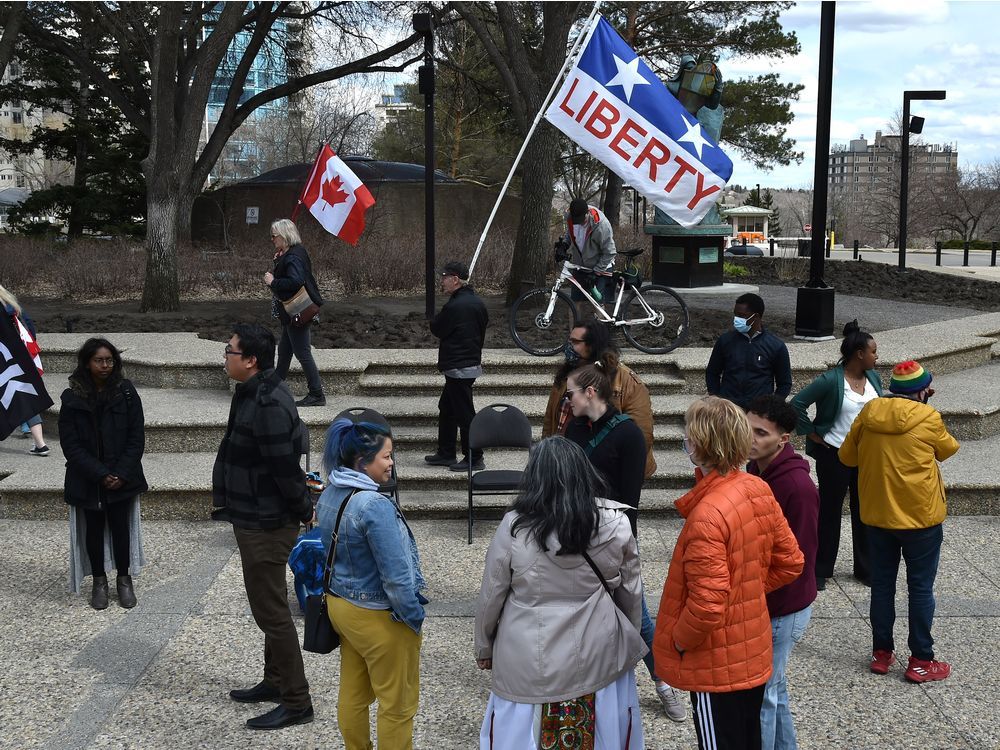 Black, Indigenous and other racialized communities often have "very different experiences in accessing programs, processes and services provided by the provincial government"
Content of the article
Supporters of a bill that would require the Alberta government to collect race-based data in all areas of its operations rallied on Saturday after UCP MPs slapped the bill with a major setback.
Content of the article
Bill 204, introduced by NDP MP David Shepherd, would create an anti-racism office within the Alberta government and require all departments to collect data to identify racial disparities in programs and government policies.
The bill effectively died last week when a majority UCP committee refused to recommend it for debate in the Legislative Assembly.
About two dozen supporters of Bill 204 protested outside the Legislative Assembly on Saturday.
The rally overlapped with an anti-COVID restriction 'freedom rally' in front of the nearby Federal Building, which created a tense moment as the flag-waving crowd marched past (and in some cases through) the event of Bill 204. After arguing with organizers, one of the freedom rally attendees eventually joined a Native-led prayer circle organized by Bill 204 supporters.
Content of the article
Black, Indigenous and other racialized communities often have "very different experiences when it comes to accessing programs, processes and services provided by the provincial government," Shepherd said in an interview.
Bill 204 would have required the collection of racially aggregated data "in all areas where we provide programs, processes and services within the Government of Alberta. So within the health care system, the education system, the justice system, child services.
Shepherd said some agencies already collect racial data, such as police departments and the child welfare system. These data revealed the overrepresentation of non-white citizens among those "on file" by the police, as well as the disproportionate presence of Indigenous children in government care.
Content of the article
Shepherd said community groups have called on the Department of Health to collect race-based data on the COVID-19 pandemic without success. Similar data collected in Ontario showed that "racialized communities have been disproportionately impacted by COVID 19."
He added that Alberta does not collect consistent statistics on graduation rates among black and immigrant students.
"Unfortunately it seems that with the UCP government there is simply no will to discuss this," he said.
UCP MP Devinder Toor voted against recommending a debate on Bill 204. He called the idea 'noble' but said he needed to hear more consultation on the subject.
— with files by Ashley Joannou