New Mediate.com Membership Badges Now Available
New Mediate.com badges are now available for listing in the Mediate.com directory and for your personal website.
Two different membership banners are available: premium member and Featured member.
Mediate.com also offers mediator certification banners. Mediate.com certification options are described here.
here is a quick summary of basic certification requirements.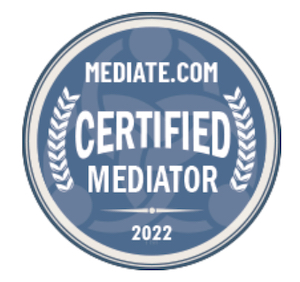 At least 100 hours of mediation training and 200 hours of experience in mediation, with at least 12 hours of annual continuing education.
Ongoing disclosure of complete information, including practice area-specific fees and case experience.
Commitment to the highest ethical standards, disclosure of professional liability insurance status, availability of references.
---
Here is a brief summary of the certification exam process:
To begin the process, and after reviewing all of the information at www.mediate.com/Certification, a candidate "orders" "Mediate.com Certification Review".
A responsive email then provides specific instructions to candidates.
Most candidates take a few days to gather all of their information and post it online in the Mediate.com directory and/or on the candidate's website.
Once the candidate feels their information is complete and ready for review, the candidate completes a certification application.
Mediate.com responds to the request within 30 days. The response will be either an approval, a refusal, a request for additional information and/or a request for an interview.
In case of refusal of approval, the applicant can make a "request for reconsideration".
An applicant who does not obtain approval may reapply after 6 months.
---
Here is a summary of the cost of mediator certification.
The cost of applying for certification, including all first-year certification costs, is $149. If an applicant is not approved, $99 is refunded.
There is then an annual certification renewal fee of $99. This includes an up-to-date review of disclosures and annual continuing education requirements.
To apply for the Mediate.com certification, you must be a Premium or Featured member of Mediate.com. See www.mediate.com/Membership.
It is through your listing in the Premium or Featured Membership Directory and your business website that required disclosures are made.