Alumna-Founded Startup Argolytics Joins NSF I-Corps National Teams Program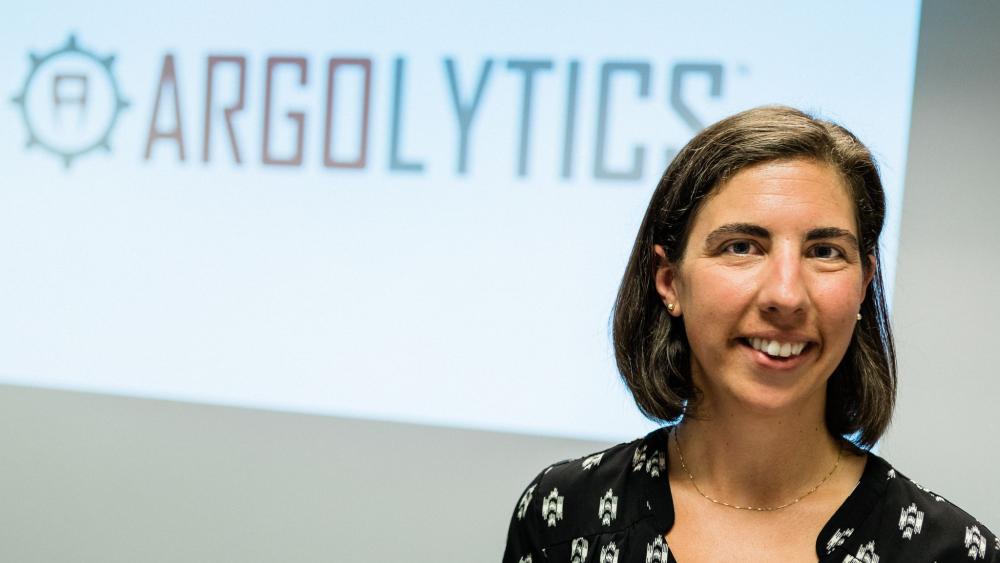 UNIVERSITY PARK – In her customer-facing role at statistical software company Minitab, Penn State alumnus Tamela Serensits saw an opportunity to solve a problem she kept seeing her customers encounter again and again.
"Because Minitab has been around for 50 years, every year there's a new version and it gets bigger and bigger," said Serensits, a 2001 Penn State University Park graduate with a bachelor's degree in animal science and Penn State World Campus. in 2020 with a master's degree in applied statistics, said. "I kept hearing from customers that they just wanted something very simple that they could use to create those simple quality control analysis reports that they needed. I thought to myself, "I know how to do this", and I tried to reduce all these advanced statistics to what was really necessary.
In 2018, Serensits launched Argolytics and its flagship product Trendable, software that allows manufacturers to easily collect, analyze and report quality control data.
Small and medium-sized manufacturers need to prove to their customers that the product they manufacture is made to exact measurements. If a machine shop manufactures parts for an airplane, for example, the shop must track and measure every aspect of every part produced to ensure that the parts will not only fit properly in the airplane, but will also work. safely.
To prove this, manufacturers use data analysis tools for quality control.
"With Trendable, they can have the essential tools without all the bells and whistles," Serensits said. "Manufacturers can collect data on a phone and enter it directly, and they can actually see it graphically in real time, so if the build starts to get close to tolerance, they know it immediately and can take corrective action. ."
To grow the business, Serensits had participated in local programs including Happy Valley LaunchBox powered by PNC Bank's FastTrack Accelerator, Invent Penn State's Summer Founders Program, and Ben Franklin Technology Partners' TechCelerator @ State College. Serensits also worked closely with the Penn State Small Business Development Center (SBDC) as she grew her business.
Last spring, Serensits participated in the National Science Foundation's Innovation Corps (I-Corps) National Teams Program, an immersive and entrepreneurial training program that facilitates the transformation from invention to impact for teams participating in national scale. The program consisted of seven weeks of intensive virtual startup training, during which participating teams were required to complete at least 100 customer discovery interviews.
"Working with Tamela over the past three years, I knew the next step from previous success was to apply and take advantage of the National Teams program to assess marketing and go-to-market opportunities through customer discovery," said John Peterson, business consultant at Penn State SBDC. "This path helps entrepreneurs build and strengthen business fundamentals through mentorship and research to identify compelling product opportunities."
Serensits participated in the program with Hui Yang, Penn State Professor of Industrial and Manufacturing Engineering and Bioengineering, as well as Craig Womeldorf, Ben Franklin Technology Partners Executive-in-Residence.
"From my first meeting with them, I knew that Tamela and her principal investigator, Professor Hui Yang, would be an excellent candidate for the I-Corps National Teams program," said Derek Gross, NSF I-Corps program manager at Penn. State. "Tamela was looking for an opportunity to better understand the business potential of what she was working on. The National Teams program places a strong emphasis on developing a go-to-market plan by talking to potential customers as well as industry experts. »
Trending software is currently aimed at traditional manufacturing, but more and more manufacturers are starting to work with 3D printers. The team's goal during the program was to explore how to ensure high quality in additive manufacturing, which requires considering the interior quality of the build, not just the exterior dimensions.
"The national team program was super intense, but it was also a lot of fun," Serensits said. "For us, we were able to come away with the impression that there is room in the world of 3D printing for more quality control solutions, and now we will pursue a prototype of a possible solution for the Quality Control."
She said she would recommend any research-based startup to consider the national teams program and recommends getting into the program with one or two conferences or trade shows lined up to attend, where there are hundreds of people in their respective fields available for an interview.
"My other big tip is to really assemble a cohesive squad for the national team program," Serensits said. "Our team's mentor was there for almost every interview and came to one of the conferences with us. Our tech lead benefited a lot from this experience because he wasn't necessarily speaking with people on the business side before that. He was mostly familiar with academia, so he had the chance to get out there and hear new perspectives. The three team members worked really well together, and that was really key.
In addition to researching additive manufacturing software, Serensits said Argolytics will also continue to develop products in response to customer needs as more people start using the current Trendable software.
Visit this website to learn more about NSF I-Corps programs available at Penn State.
About the NSF I-Corps
The NSF I-Corps program uses experiential education to help scholars gain valuable knowledge about entrepreneurship, starting a business, or industry demands and challenges. I-Corps transforms invention into impact. The program integrates scientific research and industrial discovery into an inclusive, data-driven culture focused on rigor, relevance, and evidence. With I-Corps training, researchers can reduce the time it takes to translate a promising idea from lab to market. Penn State University is part of the NSF I-Corps Mid-Atlantic Hub, a network of universities, NSF-funded researchers, established entrepreneurs, local and regional entrepreneurial communities, and other federal agencies. The hubs work collaboratively to build and sustain a diverse and inclusive innovation ecosystem across the United States.